After traveling to three different stores, I finally ended up at Barnes and Noble (I know, I should have started there... and even they didn't have to book out anywhere that I could find the blasted thing... they should be shot) and found a book I've been waiting forever to get: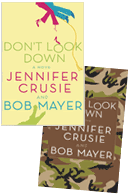 Because I didn't have enough to distract me from my writing.
This book is really quite fresh (so far... I'm only about six chapters in) -- funny (how could it be otherwise? I mean, it is Jenny Crusie), interesting, well-written. Bob Mayer is such a
man
... and it's refreshing to see an actual man's POV in this book because, no matter what, women authors are still women. Most men's books don't include such a strong look inside a guys head. I'm getting a kick out of the whole thing.
And, hey, if she can have a one-eyed alligator as the star... I should be able to have a rat.
Gotta go read some more.