It's difficult to think anything but pleasant thoughts while eating a homegrown tomato. ~Lewis Grizzard
I hate Monday holidays. They really mess up my already muddled perception of the days of the week!
How was your weekend? Did you do anything fun?
It finally got warm here! Yay! In fact we got warm enough that DD wanted to play in the sprinkler. You need to understand that we use well water -- absolutely frigid -- and yet, she doesn't seem to mind the temps.
So, I give you a sure sign of summer: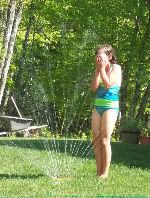 Incidentally, I discovered that Photobucket has an editing program where you can blur faces, so I may be able to post pix of DD a bit more often sans visage. That's always good to know.
I also nearly killed my squash and cucumbers -- I didn't realize how dry every thing got. Between the heat and the wind, by midday (despite a watering in the morning) it was dust dry in the garden. The tomatoes can take some heat and dry, but not squash and cucs. They were laying, wilted and flat, gasping for a bit to drink with their dying breaths.
I watered them thoroughly, and the squash perked up immediately. Seriously, I do believe I could see it moving as it changed from utterly wilted to exceptionally perky. The cucs, though? Not so forgiving. Even after a good soaking, I couldn't see much of a difference. I'll check today, but there are two plants, especially, that I may have accidentally sent to the great beyond. Of course, it's not like I don't have a ton of them, but still...
To those wondering what I'll do with "so many" tomatoes? In this house, there is no such thing. The best part of summer is going out and picking them, giving them a quick dusting on the pant leg and eating tomatoes until you're sick.
Whatever is left, I'll can. IF there are any left. I can buy canned tomatoes any time -- but yummy, vine-ripened, warm from the sun tomatoes? Priceless.
==========================
No writing yesterday. Shockingly, I took the day off. Today, I need to finish my short story for LASR and then start to work in editing Stiller Creek for submission. Then I need to work on Camilla and/or Playing House. They both need a LOT of work. But I love them.
===========================
Your Ice Cream Personality:


You like to think of yourself as a fairly modest person. And it's true that you don't talk yourself up... but you're also pretty happy with who you are.

You are incredibly cautious. You rather miss out on something than make a mistake. No one would ever call you wild... but they would call you responsible.

You are a fairly open minded person with a wide range of tastes. You are quite accepting of unusual ideas and people.

You are a natural multitasker. You feel alive when you're doing more than one thing at a time.

You can be a big dramatic and over the top sometimes. You are bold in every way

Okay... I'm on the fence about the "cautious" one, I don't think I'm THAT cautious, but I do tend to at least give a passing glance before I leap. I am definitely a multi-takser, without a doubt. "Bold in every way". Hmmm... I like that. *G*