"My opinions may have changed, but not the fact that I am right." - Ashleigh Brilliant
I have a tendency to haunt my
Fictionwise page
after a release to see what people rate it over there. Because it is anonymous, I suspect people feel very free to be brutally honest.
What amazes me (besides the fact so few folks actually bother to rate stuff -- I know what I sell there, and the percentage of reviews to sales is exceptionally low) is that there is such a diverse opinion range on my stories. For my
"Recommended Read" from Fallen Angels Reviews
, "
Miles From You
", I have rec'd a "good" and an "ok". My most recent release, "
The Christmas Curse
" has rec'd two "Great" ratings and one "ok". I suppose I should be thankful that I haven't rec'd any "poor" ratings yet. Plenty of fellow authors have.
It shouldn't surprise me, I suppose, when I consider how I don't like so many very popular authors (Diana Gabaldon and Janet Evanovich to name two), so it's clear how different people can be.
Still, it's heartbreaking when someone thinks your baby is plain. But, that's the price you pay for getting your work out in front of people. I suppose it's a decent tradeoff.
============================
Anyone going shopping today? I considered it, but there just weren't big enough deals on anything I wanted to entice me into that mess. PLUS, many places are offering free shipping today for online orders AND have their same specials online. Can't beat that!
============================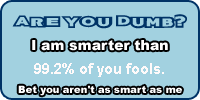 Am-I-Dumb.com -
Are You Smarter?
If you take this test... stop after you give them your email address -- you DON'T have to do the Giveaway thingie. But, you do have to give out your email address...
See how smart I am?