You can't depend on your eyes when your imagination is out of focus. ~ Mark Twain
I'm brain dead... truth is, I just spent fifteen minutes trying to find a meme to do. I suppose I would have been better served spending those fifteen minutes writing this blog instead.
It's
Judy's
fault. She made me stay up late last night.
**yawn**
And then my DD (that's Darling Dog) woke up "oofing" this morning before 4 a.m. -- I hate when she does that because it's a "I'm not really scared, but still there IS something out there" bark. And I wonder what it is. And my mind wanders. And... one of the drawbacks to being a writer is a very active imagination.
So did I go back to sleep? Ha. Not with a slobbering, green-slime oozing, serial killing, radioactive, mutant brown werebear outside my window.
=============================
Are you an author? Do you have a contest at your blog? Then,
LASR
wants to help promote it. Here's the deal:
We at The Long and the Short Of It want to help promote authors as much as possible, so we keep trying to think of ways to do so. We're going to start running a page listing other folks contests, and I thought you might like a heads-up. If you're running a contest, or are going to be running one, let us know so we can help get the word out.

For us to list your contest, all we as is that you provide us a reciprocal link on your website and/or blog (if you'd prefer a banner, we have several to choose from here)! If you'll email us the information about your contest: title, prize(s), requirements for entry and the expiration date as well as the location of the reciprocal link, we'll get you on the page right away. The "other contests" page will be up and running at the end of the week.
=========================
Speaking of contests, have you swung by to enter to
win the autographed book
from Janet Mullany? Or the
free eBook
from Elaine Cantrell? You have three more days to enter!
==============================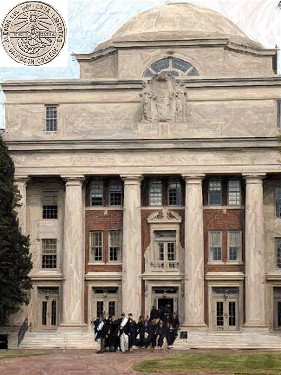 You're Davidson College!

You love your mama, Jesus, and America too. But rather than
finding yourself in free-fall, you've been on the rise lately, as people
have flocked to see you. Of all the wars that have been fought, you felt
the Revolutionary War was most justified. Cherish is a word you use to
describe all the feelings you have deep inside. If you were a book, it
would be Charlotte's Web.


Take the University Quiz
at the Blue Pyramid.